Introduction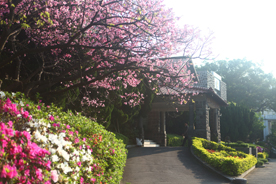 Education is the crucial foundation of a nation. For this reason, teachers who are tasked with the mission of educating have great responsibilities. To respond to the progress of the times and the ever-changing society, teachers must also improve and enhance their professional knowledge and skills constantly in order to fulfill the purpose of education.
In-service education for teachers has been deemed essential for their continuing professional development and professional autonomy, and also for the educational improvement as well. For this, therefore, the main objectives of this center are to facilitate school administration and management, curriculum development, instructional activities, teaching materials and professional abilities of integrating educational resource. These objectives serve to encourage teachers' professional development.
History and Founding Purpose
Taipei Teachers' In-Service Education Center was previously set up in 1980 at the former site of the Yangmingshan Administrative Bureau. It was officially founded on Teacher's Day, September 28, in 1981. In 1982, it used the buildings of Rixin Elementary School as its offices until its own buildings were finished in the following year. Then it moved to its current site and began the delivery of teachers' continuing professional development programs.
This center is aimed to provide a permanent place for providing both school teachers and administrators of all levels in Taipei City with in-service education programs in accordance with the need of educational and professional development. The center in itself is located in the foot of Yangmingshan, and then it provides teachers with an elegant learning environment which allows participants to be fully engaged in the education program.
Our participants will be enlightened and empowered through diverse discussion with academics, practitioners, and also through practical practices and presentations. Through these educative learning practices, our participants as transformative intellectuals would be able to put theories into practice as they're teaching. Through which our students benefit greatly from such quality teaching. Overall, we seek to provide teachers with the opportunity of continuing professional development, developing professional learning communities so as to earn their teaching professional status.
Visions and Objectives
"iLearning", "iInnovation" and "New Future" are the visions of this institute. We aim to develop the high quality in-service education courses for teachers, and to cultivate a new generation of quality teachers. We move toward the future along with all teachers in Taipei City through the concepts of diversity and an innovative future.
This center is the only district-level in-service education institution across all districts in Taiwan. We are dedicated to teachers' professional development in this capital city. Various educational resources and policy initiatives are incorporated into multiple-types in-service education courses for school teachers and leaders of all levels. We hope to effectively promote these courses for teachers in Taipei City in order to facilitate their teaching, administration and research capabilities.
Personnel
The center has one director in charge of the operation under the command of the Commissioner of the Department of Education. And there is one secretary assisting the director. The center consists of six sections, including the Research Section, Academic Affairs Section, Guidance Section, General Affairs Section, Accounting Section and Personnel Section. Currently, there are 24 official employees, 3 contracted employees and 17 caretaking staff with a total of 44 employees.
The work responsibilities of each section are as follows:
Research Section
In charge of the educational research, the collection of pedagogical data, editing, publication, the invention and promotion of teaching materials and other related research business.
Academic Affairs Section
In charge of the planning of in-service education programs, the selection of participants, the edition of learning materials, the course arrangement, the grading of trainees and other related program affairs.
General Affairs Section
In charge of official documents processing, general affairs, cashier affairs, and healthcare etc.
Guidance Section
In charge of the counseling of trainees, the grading of their ethical conduct, friendship events, tracking counseling, teacher consultation as well as other counseling affairs.
Personnel Section
In charge of related personnel affairs such as regulations, personnel transference, evaluation, rewards, punishment, retirement and compensation
Accounting Section
In charge of the accounting of the facility, year-end businesses, the planning and approval of budgets, authentication of basic documents, control of budget use, accounting affairs, conduct supervision according to the Government Procurement Act and other related accounting affairs.